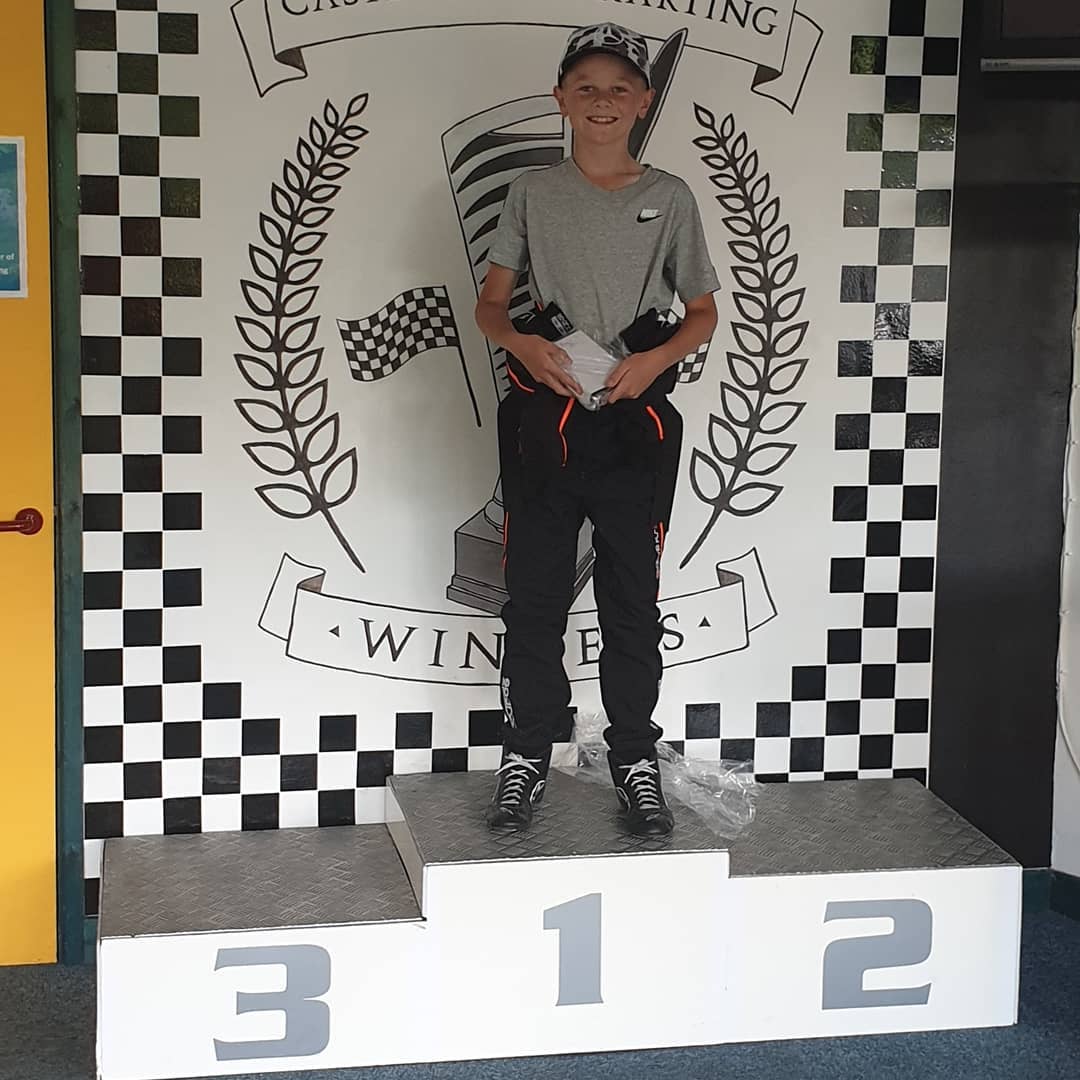 Sunday saw round 6 of the Castle Combe Junior Karting Championship.
Luke Cridland and Flynn Mchardy lined up on the front row and were able to pull away out in front in the early stages of the race. Bertie Thomas started 3rd, but had a bad first corner and dropped down to 6th. Ben Frankcom moved from 4th to 3rd with Jake Holley moving from 6th to 4th and Jago O Neill from 8th up to 5th. Leo Bell and Jamie Watson both go held up at the first corner and continued in 7th and 8th.
Jake Holley made a move on Ben Frankcom to move his way up into 3rd place and then set about catching the leading duo. Flynn Mchardy closed in onto the back of the Luke Cridland and tried a move, with a bit too much contact. This allowed Jake Holley right onto the tail of the leading two. Flynn attempted to give the place back, but ended up dropping back down to 3rd. He then tried to get 2nd place back into the top corner, but spun and dropped right down the order. The spin caught out a couple of drivers, but Jago O Neill was able to capitalise and move into 3rd place, with Leo Bell moving up into 4th and Ben Frankcom in 5th. Bertie Thomas was the big loser from the incident getting stuck in the barrier and dropping back down to 8th.
Jake Holley set about trying to close up on Luke Cridland, setting the fastest lap in the process, but Luke was able to hold on to take his first victory in the Castle Combe Junior Karting Championship. Jake Holley took 2nd with Jago O'Neill completing the podium in 3rd. Jamie Watson came through to take 4th ahead of Ben Frankcom in 5th, with Leo Bell 6th, Flynn McHardy 7th on the road and Bertie Thomas 8th. A black and white flag dropped Flynn to 9th in the days standings.
Freddy Watts put in a perfect drive to take a lights to flag victory in the B Final. Caspar Chadwick was able to move into 2nd initially, before Rhys Whitty came through into 2nd and began caught Freddy towards the end, but was never close enough to make a move. Ryan Taylor took 3rd place.
Leo Causon drove brilliant to lead every lap of the C Final. He came under pressure and was catching up with backmarkers, but held on to take a great victory.