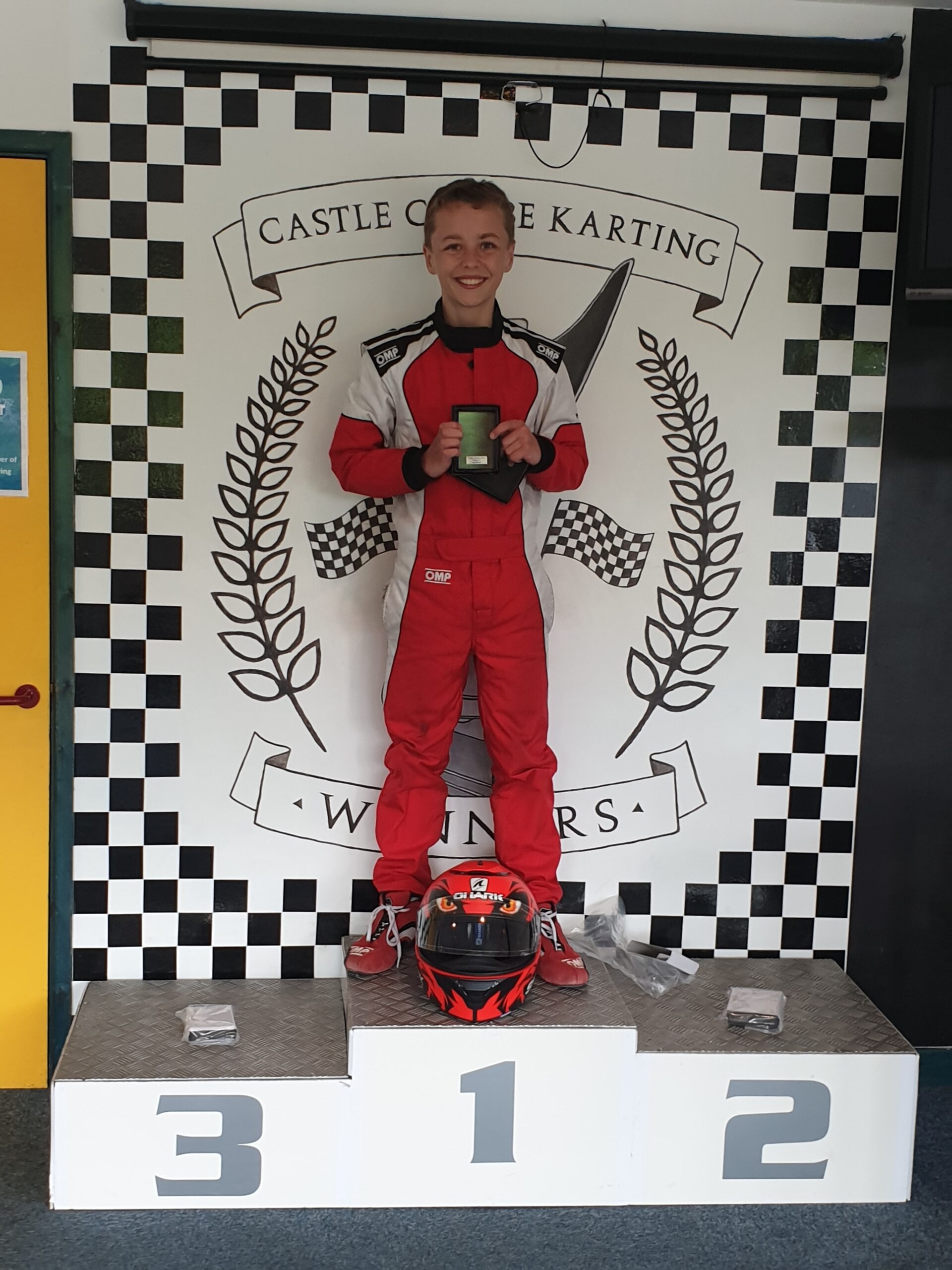 Sunday saw our Karting Circuit open up for the first time since lockdown. It was a very different day having to make sure all of the safety precautions were in place and it was great to have 22 of our Junior drivers support the event and produce some great racing in Round 5 of the Championship.
Ben Frankcom lined up on pole position with Bertie Thomas lining up 2nd on the grid, Round 1 winner Ryan Taylor and Leo Bell shared the second row of the grid. Luke Cridland lined up 5th, with championship leader Jake Holley in 6th. Jamie Watson lined up 7th and Freddy Watts completed the A Final grid.
Ben Frankcom converted pole into the lead, while Ryan Taylor moved himself into 2nd place. Bertie Thomas quickly tried to fight back and made a move with a bit too much contact that warranted a black and white flag. Ryan Taylor dropped back to 4th, with Luke Cridland moving up into 3rd place. All of this allowed Ben to pull out a big lead in front and he went about setting a string of fastest laps to build his lead.
There was more action behind as Luke Cridland made a mistake hitting the wall at the last corner, bouncing back out in front of Ryan Taylor. Leo Bell just about made it through the incident but lost a lot of time, which allowed Jamie Watson to move up into 3rd place. Leo moved up to 4th, with Jake Holley close behind in 5th. Freddy Watts also moved up to 6th, with Ryan Taylor continuing in 7th and Luke Cridland dropping right back to 8th.
It was a 3 way battle for 3rd with Jamie Watson defending from Leo Bell. Leo tried to take a wider line and Jake Holley took full advantage diving up the inside to take 4th place. He tried a similar move on the following lap, but it ended in contact and spun Jamie Watson. This allowed Leo Bell to come through into 3rd place, with Jamie continuing in 4th and Jake Holley 5th receiving a black and white flag for the incident.
Ben Frankcom was completely untroubled out in front and came through to take his first win of the season and with it the fastest lap of the day for a maximum points haul. After the penalties were applied Bertie Thomas dropped to 4th place, with Leo Bell taking 2nd place and Jamie Watson in 3rd. Jake Holley dropped two places down to 7th, so Freddy Watts took 5th place, Ryan Taylor 6th and Luke Cridland 8th.
Rhys Whitty lined up on pole for the B Final and was chased hard by Jago O'Neill, but Jago wasn't quite able to hold on and Rhys was able to pull out a lead and take the victory. Flynn Mchardy had a brilliant drive through the order, starting 8th on the grid and finishing a brilliant 3rd.
The C Final had Thomas Hughes on pole, he converted pole into the lead and took a comfortable victory. Ethan Burleigh and Sam Skellett had a good battle for 2nd, with Ethan coming out on top and Sam taking 3rd.
Thank you to everyone who supported us and hopefully we will see you all back again for Round 6 on Sunday 19th July