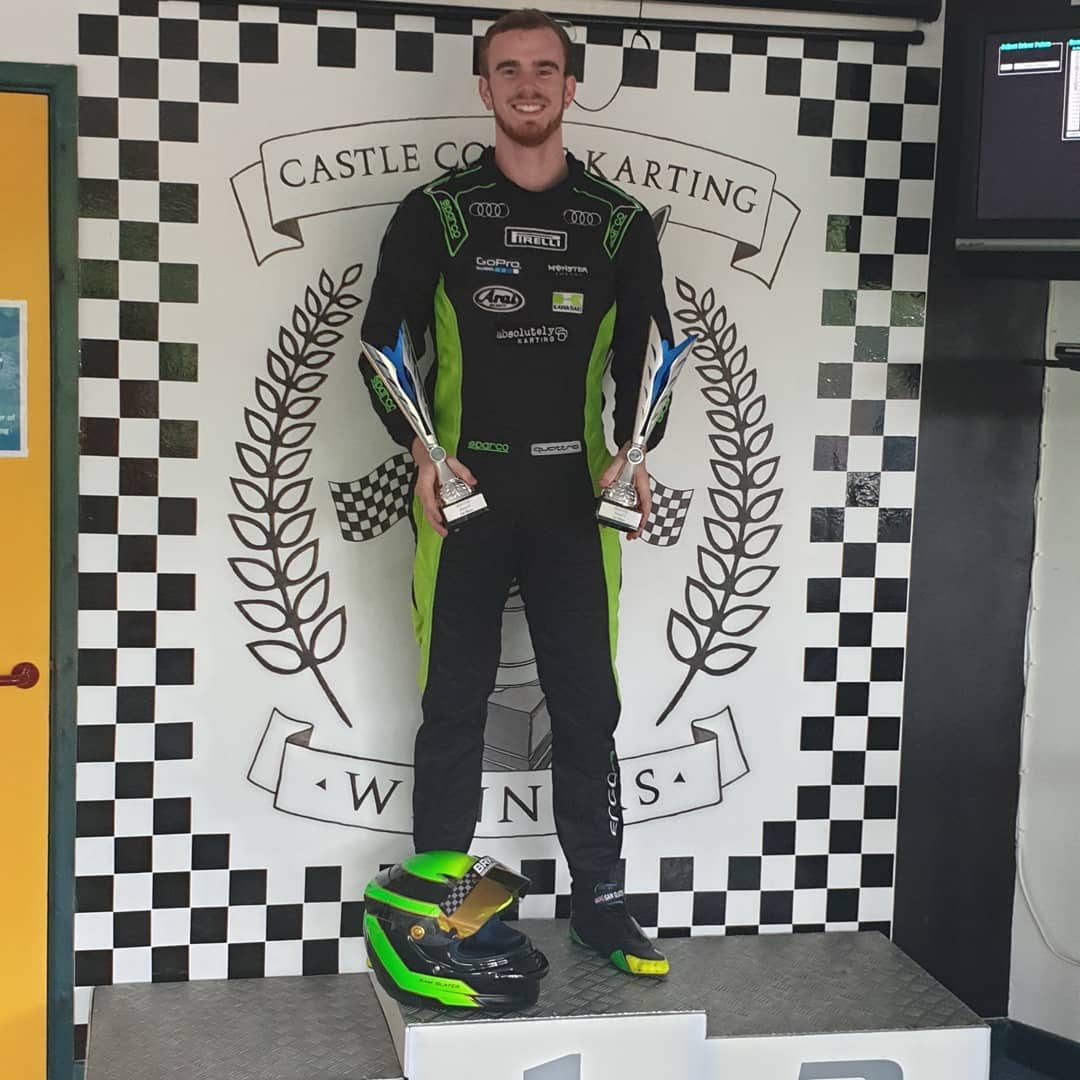 It was a wet round 3 of the Castle Combe Karting Championship which saw Ben Chick line up on pole position.
Gavin Williams was able to get his way through into the lead with Sam Slater behind in 3rd making it a 3 way battle for the lead. Sam passed Ben for 2nd and then set about finding a way past Gavin.
Sam found a way through and Ben Chick followed to move into 2nd a couple of laps later. Ben closed in on Sam and found a way through on the last lap into the top corner but Sam cutback to retake the lead and take a fantastic win. Ben took 2nd and fastest lap with Gavin Williams taking 3rd.
Jacob Hearne took a brilliant 4th from 9th in the grid with Shane Lucas 5th. Sebastian Miller moved up to 6th from 10th on the grid. Sonny Elton impressed in his debut in the championship to take 7th place with Barney Williams taking 8th, Alastair Morgan 9th and Ethan Burleigh 10th.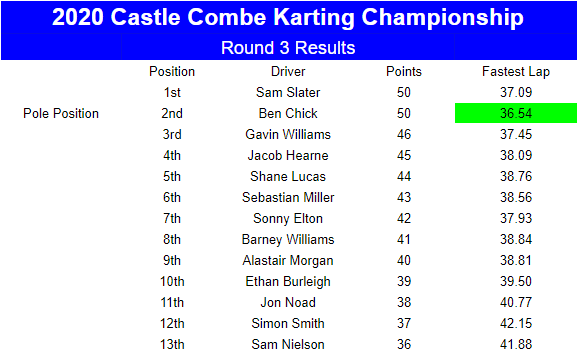 Round 4 of the Championship took place on Saturday afternoon and saw championship leader Sam Slater line up on pole position, he got off to a great start and was never headed as he went on to take his 3rd win of the year.
Neil Durrant lined up 3rd on the grid and jumped into 2nd at the first corner, he kept Sam honest but was never close enough to make a move and took a brilliant 2nd place. Ben Chick started 2nd, dropping to 3rd at the first corner and then defended 3rd for the rest of the race from Shane Lucas. Shane was unable to find a way past, but took a 4th place and the fastest lap of the day. Gavin Williams took 5th place ahead of Alastair Morgan, with Jacob Hearne in 7th and Sebastian Miller in 8th, both gaining 2 places from their starting positions. Morgan Durrant took 9th place. Jon Noad, after taking his first heat win and then following it up with a second heat win in the following race made it into his first A Final finishing in 10th.