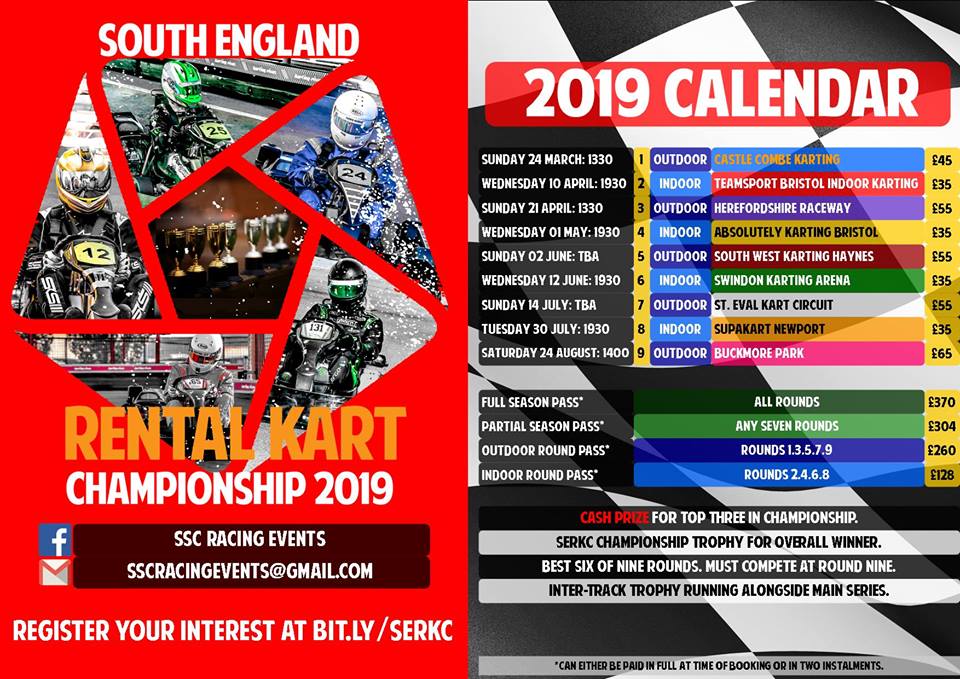 We are hosting Round 1 of the South England Rental Kart Championship on Sunday 24th March. This Championship is over 9 rounds with a combination of indoor and outdoor circuits with a CASH PRIZE at the end of the Championship for the top drivers.
There is also a team element to the Championship, with Teams having up to 3 drivers with the top 2 highest scorers in each round counting towards the Championship total. You can represent your home track in a team if you wish to do so.
The event format for Round 1 is 4 heats per driver, where each driver will start on a different row of the grid for each of the heats. There will be 8 karts in each heat and If it is dry the heats will be 8 laps. Drivers will score points during the heats, 10 for 1st, 8 for 2nd, 6 for 3rd and down by 1 to 8th place. The top 10 Drivers on points at the end of the heats will qualify for the A Final. The next group of drivers will qualify for the B Final and so on. If there is a tie on points, grid positions are decided by fastest lap. The heats are simply to decide where you start and for which final. The Championship Points are decided by finishing position in the finals.
The cost of Round 1 is £45, but there are a couple of other options to pay for the Whole Championship or part of the Championship if you are interested in doing so. To keep up to date with the Championship you can follow the facebook page:
https://www.facebook.com/southenglandrentalkartchampionship/
If you would like to take part, register your interest here: bit.ly/serkc.