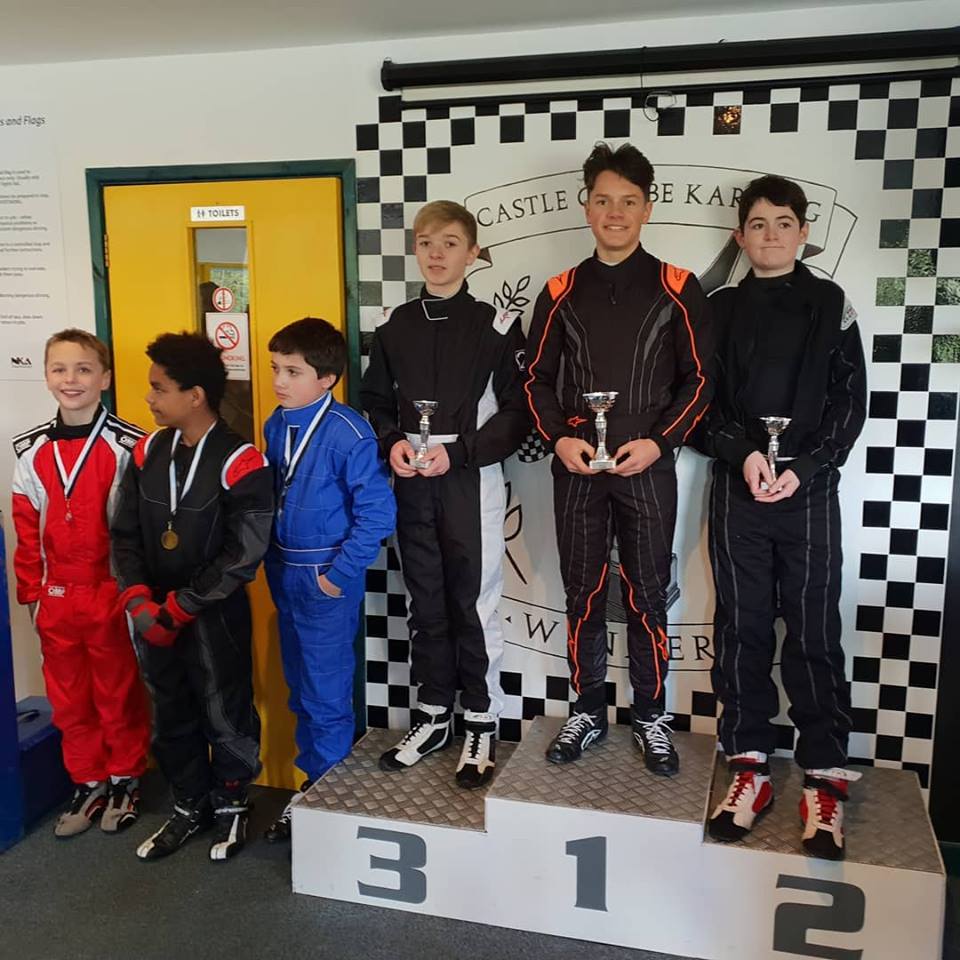 We had a great entry of 26 drivers for Round 3 of the Castle Combe Junior Karting Championship.
Billy Cockle lined up on pole position and got a good start to lead from Harrison Dunsden, while Evie Poulain was able to move up into 3rd place from 4th on the grid. Harrison went for a move on Billy, but made contact. They exited the corner side by side, but Harrison was able to keep the inside line to make the move stick. The move bunched the rest of the field up and Evie was the big loser, dropping back to 5th, as Brook Plank was able to take advantage and move up into 3rd place, with George Taylor also making his way past into 4th place. Harrison was able to pull away out in front, but he received a Black and White flag for the move, losing 4 points from his round score. He took the victory ahead of Billy Cockle, with Brook Plank completing the podium in 3rd. George Taylor finished 4th, Evie Poulain 5th, Harrison Crook took 6th and Leo Bell 7th.
Archie Hamilton impressed on his debut in the Championship, lining up on pole position for the second final. Harry Taylor was alongside him, but it was Ben Frankcom from 3rd on the grid who made the best start moving up to 2nd and challenging Archie for the lead. He was able to find a way past Archie and went on to take a dominant victory. Alexander Georganas made brilliant progress from 5th to move up into 2nd with Ryan Taylor also moving up the order into 3rd. Archie fell back to 4th, but it was still a great result.
Donovan Dyer was unlucky in the heats and find himself on the front row of the C Final. But he drove brilliantly to take the lead and pull away to take victory. Wills Hudson was another driver who impressed on his debut and lined up on pole, but he was unable to keep Donovan behind. He held on to take a great 2nd place, ahead of another Championship debutante Jack Elliott, who progressed from 4th on the grid to finish in 3rd. Louis Harwood won the D Final from pole position, but Ethan Burleigh kept him honest for the entire race and finished a close 2nd, with Kelly Corcoran showing great speed to take 3rd after dropping to 5th on the first lap.
So far 32 drivers have taken part in the Championship and the Current Championship standings can be seen on the website here: https://castlecombekarting.co.uk/junior-championship-stand…/